A bare PCB for the MFOS Voltage Controlled Echo Module.
Mic/Line Input (x100 Gain in Mic Mode)
Original Signal Volume Control
Voltage Controlled Echo Volume
Voltage Controlled Feedback (Repeat)
Voltage Controlled Echo Delay
Buffer Output Useful for General Synth Work
Total blast to play with!
Supplied without components or instructions, Soundtronics stock all components needed to build these modules as well as fully assembled and tested versions for those who prefer not to tackle the construction.
Check out our DIY Build Knowledge Base for supporting documentation and advice.
Tutorial for the construction of the MFOS VC Echo PCB.
Notes:
We use PCB jigs to support our PCBs plus a component forming machine to bend the leads and then crop them ready for insertion into the PCB. We then place 20 or more resistors at a time into the PCB before soldering them from the top side of the PCB. Unless you also have similar equipment, you will need to take things a bit slower using whatever techniques you are comfortable with. If you need any specific advise with how to assemble PCBs, please post a question on our forum and we will try and assist.
Prerequisites:
You will need to be proficient at soldering small electronic components onto a PCB
You will need to be able to identify electronics components, their value and whether it matters which way around they are inserted. Generally, it does not matter which way around resistors, presets (although it will affect whether a clockwise rotation increases or decreases the setting), ceramic, polystyrene and non-polarised electrolytic capacitors are inserted. However, Diodes (incl LEDs), IC sockets + chips, 'normal' electrolytic caps, transistors do matter and failure to insert with the correct orientation is very likely to result in one or multiple component failures when power is applied.
You have all necessary components as defined in the MFOS technical instructions and / or the parts list from the Soundtronics kit of parts
You will need basic electronics assembly tools such as side cutters, snipe nose pliers and a soldering iron of 15-25W or a higher power if temperature controlled (soldering iron station)
You have access to the MFOS PCB layout schematics.
Special Notes:
C19 & C27 mounted on panel rather than on the main PCB. R15 not used.
Construction Sequence:
As per standard practice, it is best to assemble the PCB by inserting / soldering components in ascending height order.
Currently only one pic and that is of the completed PCB. The sequence remains similar to other PCBs:
Resistors and Diodes first, then IC Sockets, Ceramic Caps, Transistors and finally Electrolytic Caps.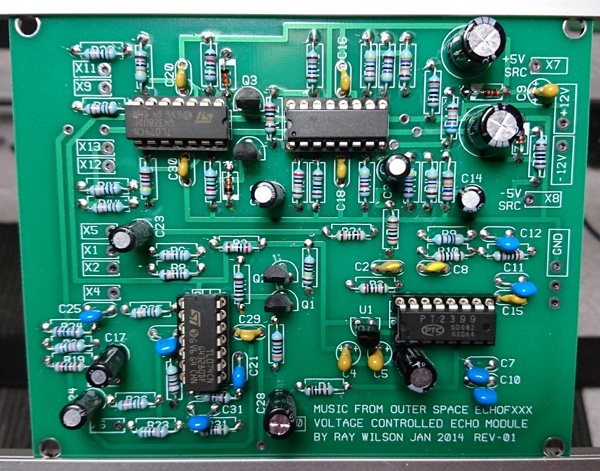 Customers also bought ....