A double sided 436 x 192mm PCB for the MIDI Ultimate analogue synth. With close to 700 components including all pots and switches mounted on it, this is a big build but comprehensive build instructions are available in the EPE magazine issues February to July 2019.
EPE re-branded to Practical Electronics during the series of articles.
The MIDI Ultimate circuit schematics can be found under the 'Downloads' tab along with the PCB layout drawing.
Erratum - 3 Nov 2019
Chris T brought to our attention a 'scratchy' sounding level pot on his MIDI Ultimate. On vestigation we discovered we had missed out a dc blocking capacitor between the echo section and the level pot. Coincidently, Yannick also had this problem and was kind enough to share his solution (see 'Downloads' tab). This has not been a problem on the few units we have built but if your pot does sound scratchy then this mod is well worth doing, you just need a 10uF 50V non-polarised capacitor part number 7213-315.
There are two solutions, the method fron Yannick requires the capacitor adding to the potentiometer side of the PCB. If your PCB is already mounted to the front panel then the method in the 'Build guide' tab above has the capacitor on the component side of the PCB.
 V1.2 of the main PCB corrects the above erratum by including the blocking capactor C530 in the Amplifier section of the PCB  
Erratum 1
To fit the 10uF 50V non-polarised capacitor requires a little preparation to the top side of the PCB. The location is at the bottom left hand corner of the PCB, the highlighted circle in the pictuire below shows the tract between two via's.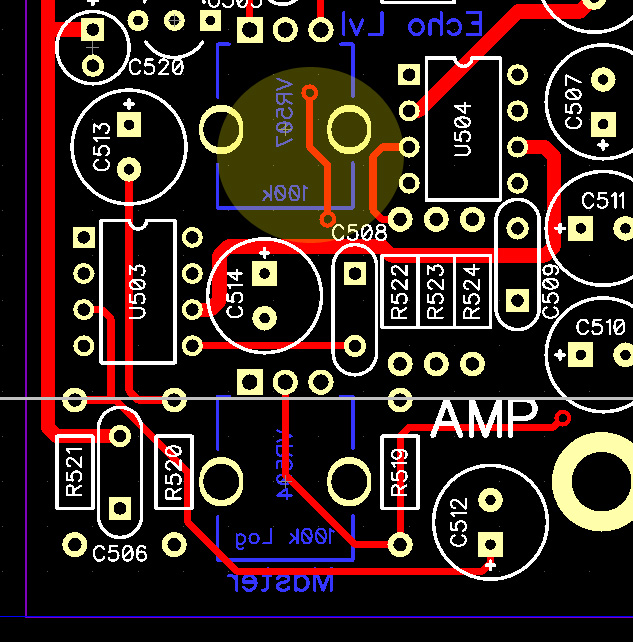 Scrape the red solder resist from the via pads using a sharp craft knife. Then cut the track between the two via's using a 'Dremel' or craft knife. Next tim the two via pads as shown in the photo below.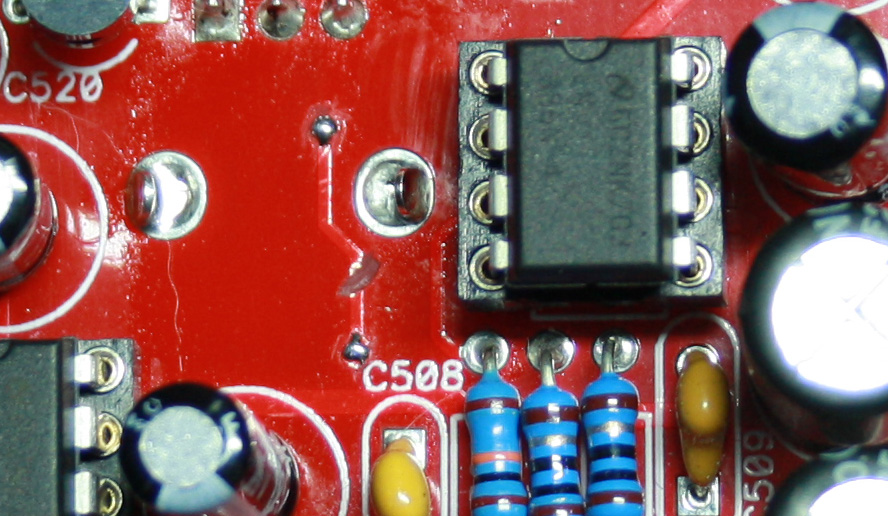 Finally prepare the capacitor leads by forming, trimming and tinning to the leads line up with the via pads. Then solder the capacitor in position. You are good to go, any scratchy noise should now be gone.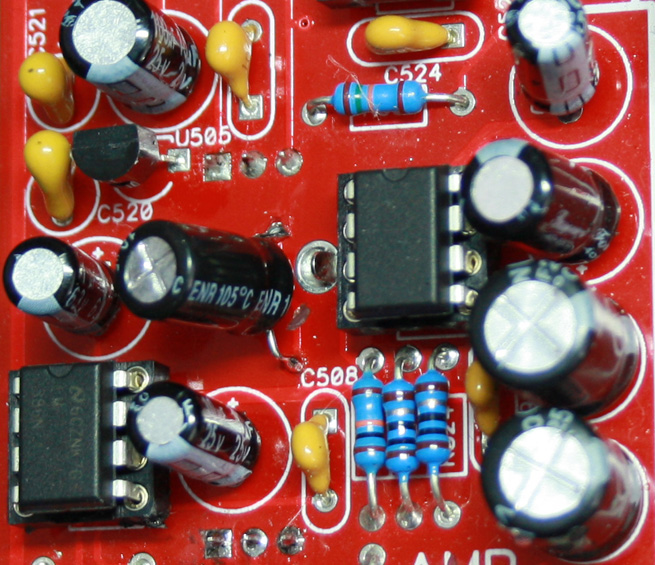 Customers also bought ....