MIDI Ultimate Synth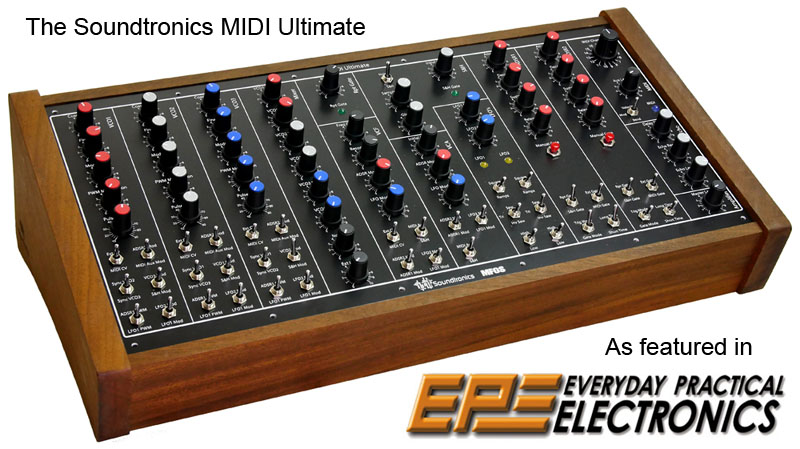 The MIDI Ultimate project is a fully-featured analogue synth with a performance comparable to many commercially available instruments. The MIDI Ultimate is an evolution of the musicfromouterspace.com (MFOS) Sound Lab Ultimate design by the late Ray Wilson who is credited for much of the design which has been reproduced with kind permission of Synthcube.com in the US.
This project will appeal to both those whose primary interest is in electronics and those whose interest is purely making music. This is quite a large build to take on with nearly 700 components (fig 1) and may initially be seen as rather daunting. However, the construction is covered in 6 issues of the EPE magazine with cover dates from February 2019 to July 2019. With care and with our detailed constructional articles, it is quite achievable. The two essential skills needed to undertake this construction are soldering and component identification. If these are new to you then numerous guides and videos can be found online. If you are a first timer or relatively inexperienced in electronics, practice your soldering before starting on this synth. Whilst the component count is high, the PCB is assembled systematically with each individual section tested before moving onto the next.
Synth Features
Three Musically Accurate Voltage Controller Oscillators (VCOs) with sawtooth and variable width pulse wave forms, pulse width modulation, hard-sync, log CV inputs.
Voltage Controlled Low Pass Filter (VCF) 12db/Oct doubles as a sine wave oscillator
Voltage Controlled Amplifier (VCA)with log response
White Noise Generator
Active 8 Channel Mixer for all VCO waveforms, noise and external input
Two Attack, Decay, Sustain & Release Envelope Generators (ADSR)
Two Low Frequency Oscillators (LFO) with square, ramp, triangle and sawtooth waveforms
Repeat Gate Generator that can also double as another square wave LFO)
Sample & Hold (S&H) with variable sample rate and glide
Toggle Switch Patching with potentiometer mixing
Echo Effect Sound Processor
MIDI to CV Interface with 1-16 channel selector switch, responds to all 128 MIDI note keys
Headphones and Line output
Integral +/- 12Vdc Power supply Regulator (needs external 12Vac 500mA plug top adaptor)
DIY Construction with through hole components
Single board design with PCB mounted pots and switches eliminates panel wiring
Block Diagram with Patching (click on image for full size view)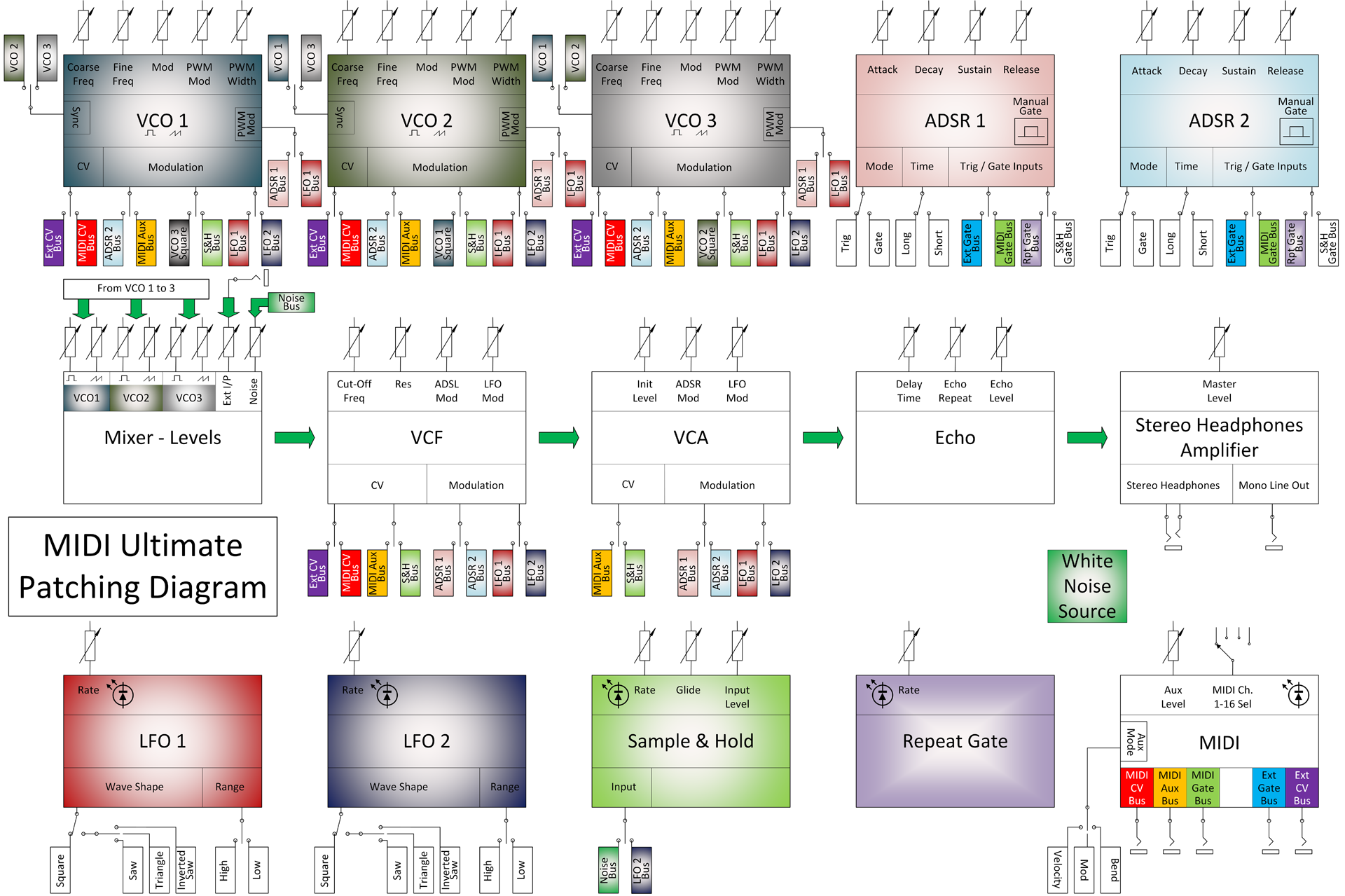 Consistent with our philosophy, you can choose whether to purchase individual components, kits, panels, case etc. To help you make your decision, the following is a complete product list if purchasing everything from Soundtronics. For a complete kit of parts, see here.
*Optional if not purchasing the aluminium back panel 7215-874