YuSynth Random Gates Module
When Yves designed this module, he had in mind to control a Moog 960 sequencer in a random fashion, but many other applications may be imagined. On the 960 sequencer, a single step can be selected directly by it's IN jack, that is, instead of having the step sequenced in the logical sequence order you may call every step in an arbitrary order provided that you address directly each step with the IN jacks. The Octal Random Gate provides eight GATE OUT signals that are randomly sequenced, that is, one out of eight output is active and this randomly changes at every clock pluse. Therefore, at each clock pulse sent to the GATE IN a randomly selected output is set to the ON state while all the other outputs are set to the OFF state.
A toggle switch makes it possible to choose the gating mode between two modes: in the first mode the ON status of the selected output lasts until the next clock pulse; in the second mode, the ON status is gated by the clock pulse, that is it lasts as long as the clock pulse is at the ON status and returns to OFF as soon as the clock signal returns to OFF (see diagram below : output X selected during one clock cycle, output Y selected during two consecutive clock cycles; left GATE MODE OFF, right GATE MODE ON).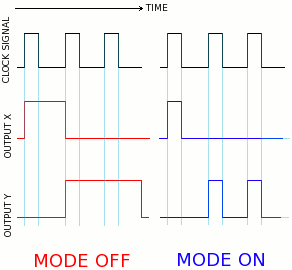 IMPORTANT NOTE :
Yves has modified the schematic and PCB of this module because there has reports of problems with the previous PCB when using HEF4006 or MC14006 instead of the CD4006 for which the circuit was designed. As the matter of fact, the HEF4006 and the MC14006 both require very steep clock edges to work properly while the CD4006 can handle slopier edges. Yves modified the circuit to convert one of the unused XOR gates of the 4070 into a pulse straightener.
We all have our preferences when it comes to building our modular synth so we offer a range of products* for the build:
PCB
Individual components
Kit of parts (excluding PCB, knobs and connectors)
Knobs (Cliff KM20B)
Jack sockets
Power connectors
Front Panel
Back Panel
PCB Holder
PCB Holder Brackets
Panel PCBs
Wiring Leads
*Not all products are available at the time of writing but are in development
For the latest build information, we recommend visiting the YuSynth website at http://www.yusynth.net/Modular/index_en.html
However, we also include this build information in our product pages plus additional details relating to the complete module assembly using our front panel solution as they are developed.