We find that wiring a YuSynth PCB to the front panel controls is both time consuming and often detracts from the overall finish. We are not able to alter the YuSynth PCBs to make panel wiring easier so we approached the problem from a different angle. We chose to mount the front panel controls on a mini PCBs (breakout boards) that take the panel controls to a JST type XH socket into which is plugged a lead (not included with set but available separately). This lead is then dressed to the main MFOS PCB (or sometimes to other panel controls) and soldered into the respective pads. Many breakout boards have solderable jumpers for making common connections as well as thin tracks to cut where panel mounted resistors need to be connected inline with say a pot wiper. YuSynth projects may require multiple breakout boards so we bundle these altogether and offer them in one ST Synth Panel Breakout PCB Set. The pack description will further describe the wiring colour code and what if any links need to be made or cut.
This method does have other advantages other than just time saving and appearance:
Time saving
Neater more professional appearance - improves resale value
Takes care of common connections between panel components
Has space to accommodate panel mounted resistors and capacitors
Can improve reliability - have you tried soldering a diode, LED and a wire to one pin on a toggle switch on the 16-step sequencer?
Makes fault finding easier
If you have any reservations about using connectors, then simply solder wires direct to the breakout boards. Takes longer but you still get all of the other advantages.
The boards are designed to fit our front panel component spacing so you will see references to pitch and whether it is in the 'x' or 'y' or both direction. At the time of writing, there was 40+ breakout boards developed for pots (using pot brackets), sockets (jack and banana), switches and LEDs. Whilst these will not take care of every panel component on all of the YuSynth projects, it will go a long way to achieving it. As we work through making up each YuSynth project with these breakout boards, we will see where improvements can be made or even create more breakout boards to provide the best possible solution.
The panel PCBs can also be used with our MFOS range. YuSynth PCBs are better laid out as regards panel wiring but can still take advantage of these breakout PCBs.
This pack contains the following breakout PCBs:
7210-703 x 2
7210-734 x 1
Whilst you can solder wires between the breakout PCBs and the main PCB, we do recommend using our JST cable assemblies. For this VCO, you will need the following:
7210-109 x 2
7210-112 x 1
See the Build Guide tab for wiring information on how to use these breakout PCBs with this module.
Guidelines when building a YuSunth VCO module using our panel PCBs, front and back panels, PCB holder and the YuSynth main PCB.
Parts needed
Assembled YuSynth PCB #7220-001
Front Panel #7220-501
Back Panel #7220-801
PCB Holder #7220-901
3-Way Pot PCB #7210-703 (2 reqd.)
12-Way 1/4" Jack Socket PCB #7210-734
12-way Cable Assemble #7210-112
9-Way Cable Assembly #7210-109 (2 reqd.)
PCB Holder Brackets Fixing Kit #7210-181
PCB Mounting Fixing Kit #7210-182
Additionally you will need our Switchcraft Jack Sockets #7212-210 (Pack of 10)
Knobs of your choice, we recommend our Cliff KM20B
Panel PCB Preparation
PCB #7210-703 for Coarse and depth control pots requires links B&F solder bridging (mark PCB with a 'C')
PCB #7210-734 for jack sockets requires link J11 solder bridging
Pot PCB Assembly
Make sure the solder bridges B & F are done before assembly.
Solder in JST headers noting that the slots in the socket housing point towards the top of the board on the pot
Remove any anti-rotation lugs on the pots
Insert pot into bracket and temporarily do up lock nut
Insert pot with bracket into PCB and solder in position ensuring the pot bracket sits flat on PCB. Only solder the bracket lugs on the bottom of the board
Repeat for remaining pots
Remove pot nut
Socket PCB Assembly
General advice an assembling socket boards can be found on the PCB product page. Solder bridge J11 is required as it allows for a ground connection. Ensure the JST socket is also soldered in before the sockets. Sockets to solder in are all except J7 & J11
Panel PCBs Completed
You now have the 3 panel PCBs populated and ready for assembly to the panel (front and back panels)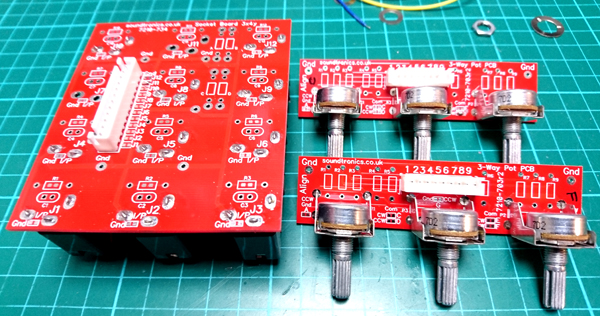 Assembly
Assembly order is PCB mounting angle brackets, socket PCB, pot PCBs, PCB holder, finally the main MFOS PCB itself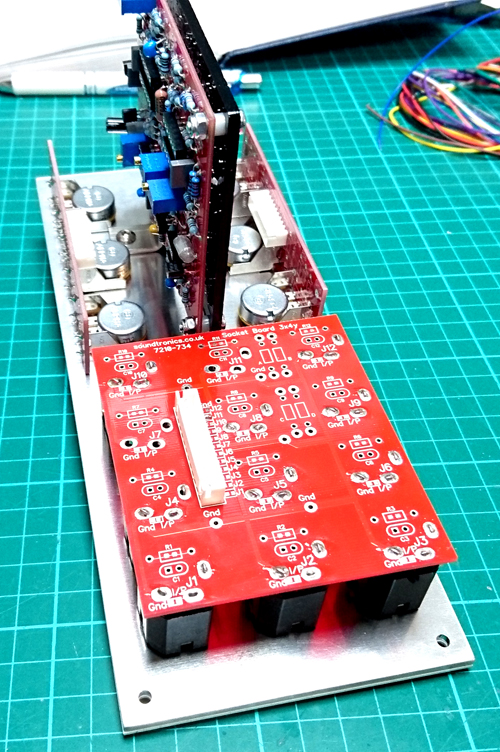 Panel Wiring
With the assembly of the Panel complete, it's time for the wiring.
Firstly, plug in the JST cable assemblies, they will only go in one way around as they are keyed.
Not all of the wires are need so these can be cut short at the header. The table below indicates which wires to cut.
Wiring Schedule
3-Way Pot PCB (for coarse and depth controls)
| | | |
| --- | --- | --- |
| 1 | Black | -ve |
| 2 | Red | Coarse |
| 3 | White | +ve |
| 4 | Yellow | Gnd |
| 5 | Orange | Lin Mod |
| 6 | Green | Cut |
| 7 | Blue | Cut |
| 8 | Violet | CV3 |
| 9 | Grey | Cut |
3-Way Pot PCB (for Fine & PWM controls)
| | | |
| --- | --- | --- |
| 9 | Grey | To R3 on coarse pot PCB |
| 8 | Violet | Fine |
| 7 | Blue | To R1 on coarse pot PCB |
| 6 | Green | PW-1 |
| 5 | Orange | PW-2 |
| 4 | Yellow | PW-3 |
| 3 | White | Cut |
| 2 | Red | PW-4 |
| 1 | Black | Gnd on socket PCB |
Socket PCB Cable
| | | |
| --- | --- | --- |
| J12 | Red | To R6 on coarse pot PCB |
| J11 | Black | Gnd |
| J10 | Brown | To R3 on fine pot PCB |
| J9 | Grey | To R9 on coarse pot PCB |
| J8 | Violet | Hard sync or Soft Sync, your choice |
| J7 | Blue | Cut |
| J6 | Green | CV2 |
| J5 | Orange | Sin |
| J4 | Yellow | Tri |
| J3 | White | CV1 |
| J2 | Red | Saw |
| J1 | Black | Sqr |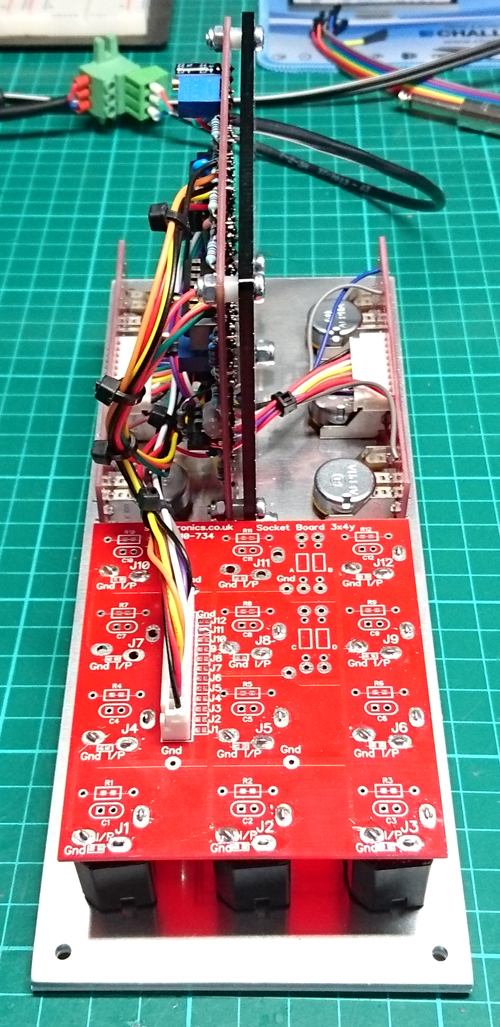 Once each wire is routed and soldered, it will be ready for dressing. We use 100mm cable ties to dress the cables.
Wiring is now complete except for the supply whcih depends on your own system. We solder in a 3-core cable with a plug on the end which we use for power distribution in our racks. For other systems there is a choice of 3 different power connectors. Next is a visual inspection and we also apply power before inserting chips to check for correct polarity across one of the IC sockets.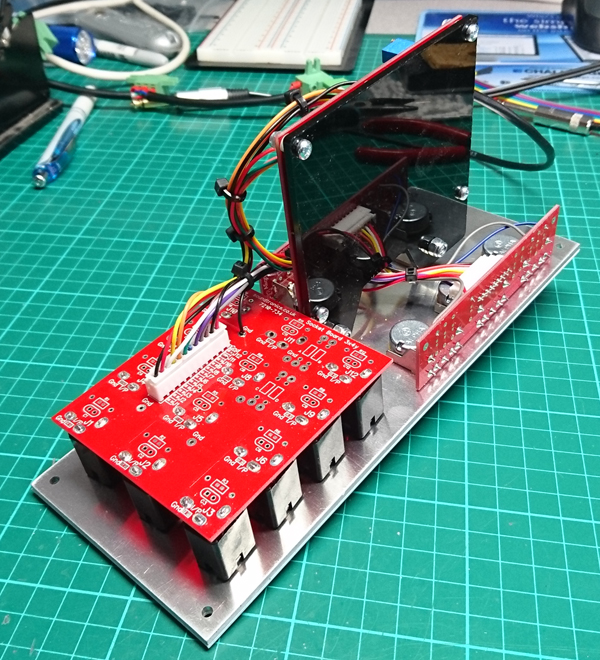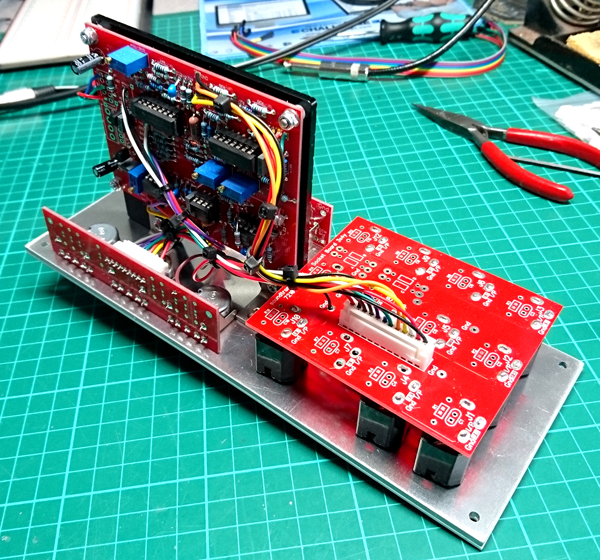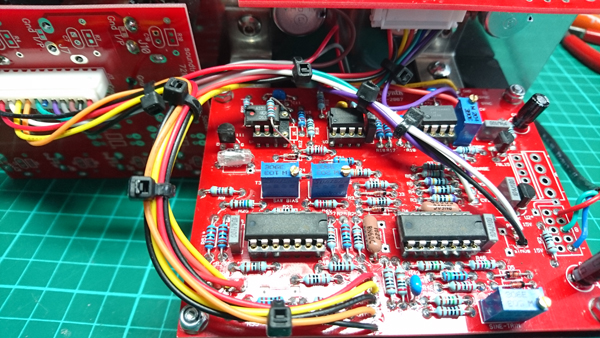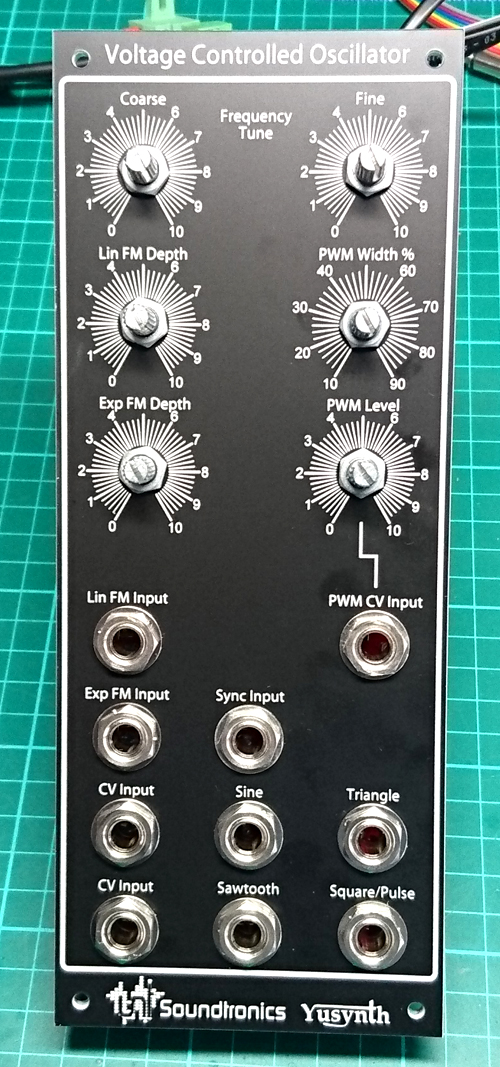 On test, we experienced problems in getting the core ramp generator to oscillate. The YuSynth designer has two voltage regulators feeding the core part of the circuit +Vcc & -Vcc. These are intended to provide a degree of voltage stability to the core circuit and should give around +/-14.2V if using +/-15V regulators on a +/-15V supply. We actually found +13.63 and -14.7V. There are two precision resistors R49 and R50 used to create a 5V reference which can only happen if Vcc is 15V, not 13.63V as in our case. We decided to remove the two voltage regulators and bypass them on the basis that the synth power supply we use is very stable and any small fluctuation has an insignificant effect in comparison to the drift due to temperature changes. YuSynth has warned that bypassing the on-board regulators could require a number of resistor values to be changed. We found the circuit performance was not affected and the original resistor values were kept. Your choice as to whether to follow the same route as we did or stick to what is a proven design and looks to work in most cases.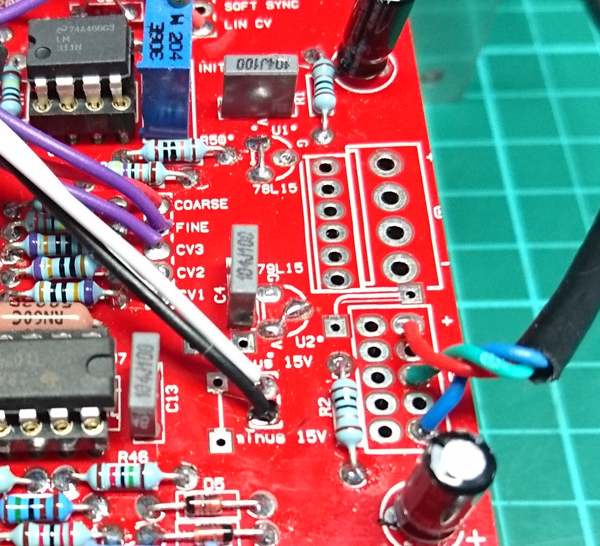 Customers also bought ....