UK Version, see here for EU version
The Soundtronics MIDI Thru Box or splitter as they are sometimes called, address the problem of driving more than 1 MIDI device from the same MIDI source. It also resolves the problem of signal delay (latency) and signal distortion / losses with chains of MIDI thru to MIDI In (especially where the MIDI thru is via software).
MIDI devices such as a master keyboard, sequencer, drum machine etc, typically only have one output and possibly a MIDI thru port.  A MIDI communication signal is really a current loop so you cannot reliably parallel MIDI connections, so a MIDI out can only drive a single MIDI In. Our MIDI Thru Boxes take a MIDI In signal and generates 6 exact copies of this MIDI In signal simultaneously and actively drives these to the 6 outputs.  Some MIDI Thru Boxes do not require a power supply but these can have limitations and restrictions such as cable length, deterioration of signal quality / drive voltage losses etc. The Soundtronics Thru Box requires a 5V dc power supply (included) to power the internal active electronics and thus not depend on the compliance of the master signal and in turn clean + boost the signal to the full 5V again for reliable re-transmission to the MIDI slave devices.
Chain Method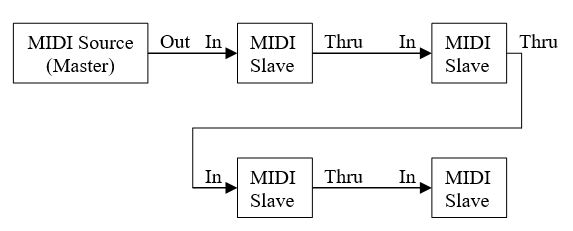 Chain method can introduce delays (signal latency) to the MIDI signal especially with chains longer than 2-3 slaves.  Also requires slave units to be powered up to reach subsequent slaves.
Thru Box Star Method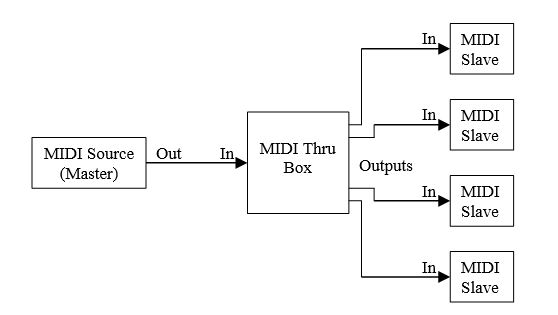 The Star approach - all MIDI slave units receive a clean boosted signal at the same time. The Soundtronics MIDI Thru Box can drive up to 6 slave units at once. Our MIDI Thru Boxes can also be cascaded where you need to drive more than 6 slave units. Additionally, the MIDI source input is opto-isolated from the 6 MIDI outputs to prevent ground loops.
MIDI Connections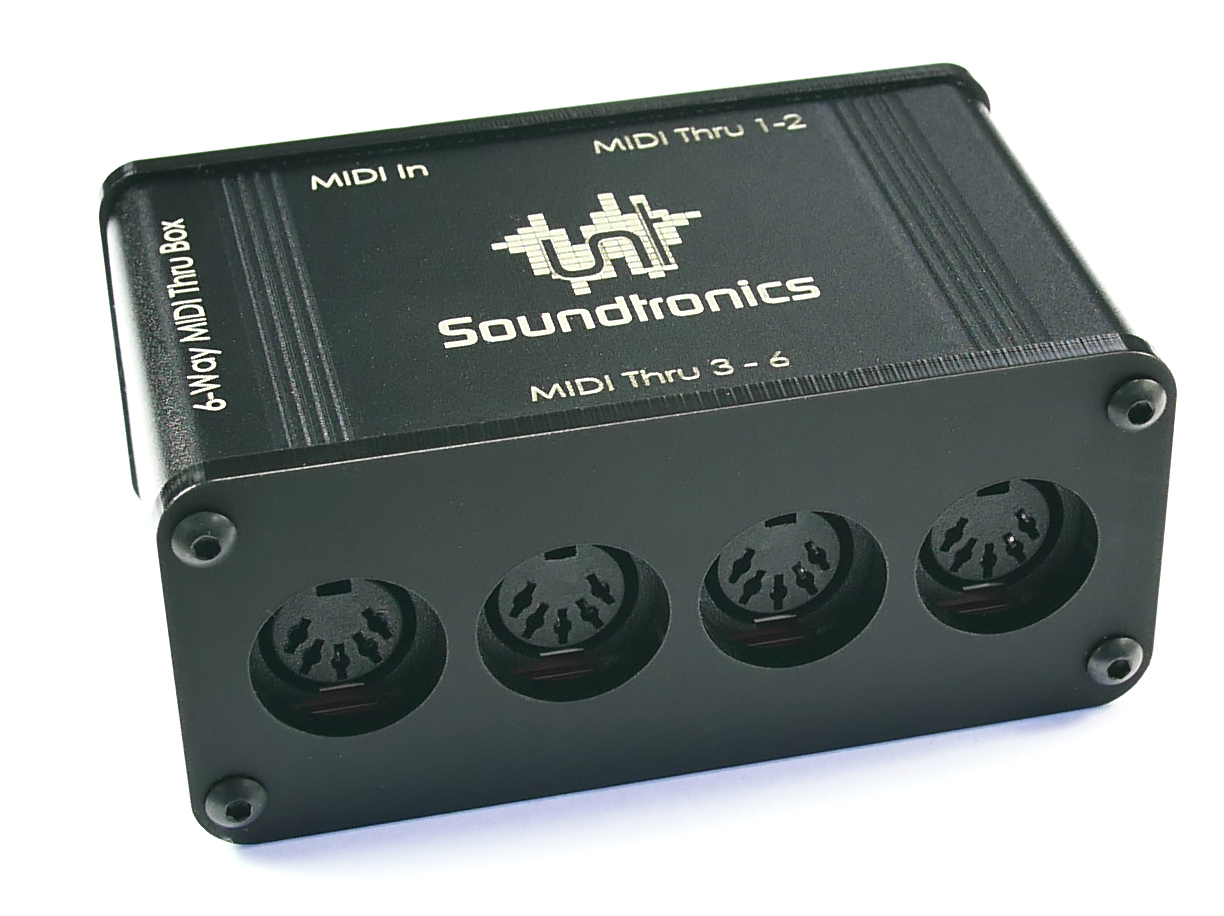 The MIDI Thru Box has 6 MIDI outputs, 4 of which are on the front panel. As all 6 MIDI signals are identical, it is not important which of the 6 output sockets you use.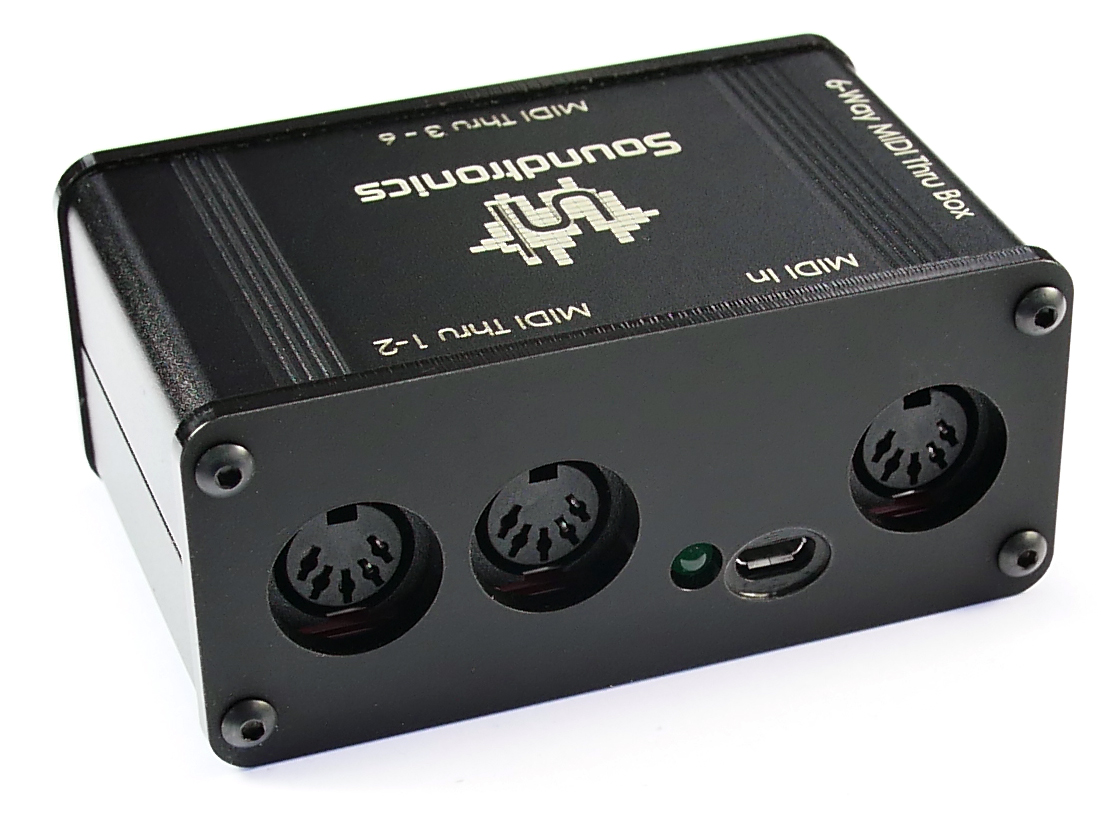 The rear panel has the remaining two MIDI output sockets, the MIDI In input socket, the 5V micro-USB power socket and a LED that flashes when a MIDI message is received.
The Thru Box is very straightforward to use, simply plug a lead in from the master MIDI signal out (or thru if needed) to the Thru Box MIDI In socket using a standard 5-pin 180° DIN plug lead. Connect the Thru Box outputs to the Midi In sockets on the MIDI slave units again using standard 5-pin 180° DIN plug leads.
Connect the 5V power supply (UK version included, see here for EU version) to the micro-USB socket on the rear panel.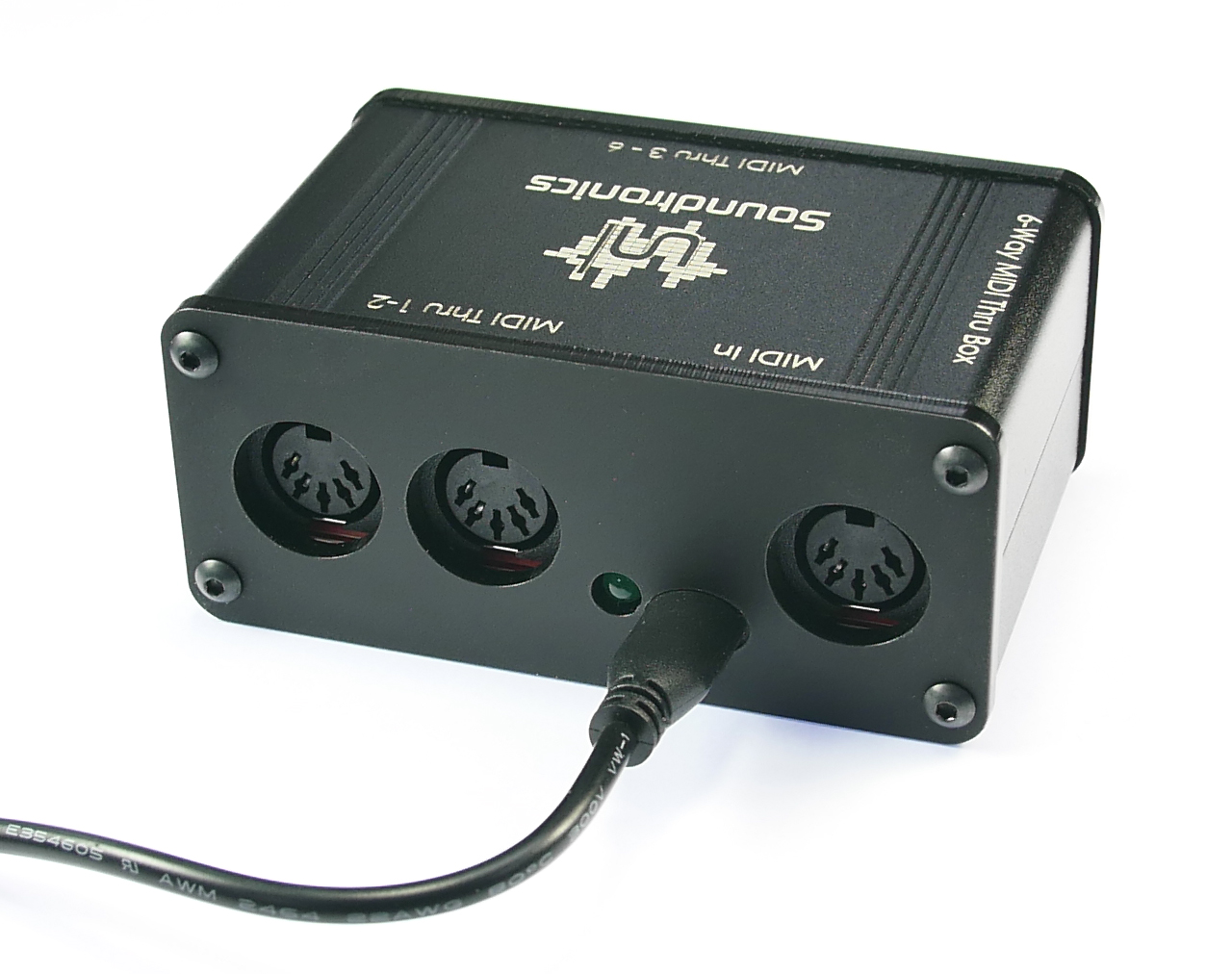 That's it, you are ready to go. The Thru Box draws very little power just 10-30mA and the adaptor is also very efficient so energy consumption is negligible.  Please note that the power supply must be 5V dc regulated, damage to the Thru Box electronics may occur if an incorrect voltage is used.
Specifications
| | |
| --- | --- |
| Input Channels | 1 |
| Output Channels | 6 |
| MIDI Message Indicator | Yes |
| Thru Box Input Voltage | 5V dc (< 30mA) |
| Mains Adaptor Voltage | 100 to 240Vac |
| Thru Box Power Input Socket | Micro-USB |
| Dimensions | 90x40x57mm |
Customers also bought ....