Synth DIY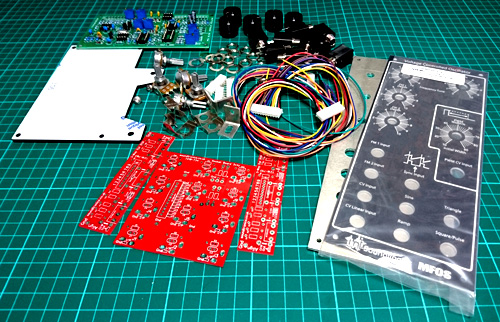 Our range of analogue synth products is currently based upon two systems:
MFOS designs by the late Ray Wilson in the US. We stock the official PCBs plus components, kits and panels. See the MFOS Products tab above for full details.
YuSynth designs by Yves Usson. We are manufacturing the PCBs under licence and should have the entire range in stock by the end of 2016. We are also sourcing all the components required but will also be supplying kits and panels in 2017. See the YuSunth Products tab above for our range of YuSynth products.
PCBs
As well as the MFOS and YuSynth PCBs, we also have our own range of Panel PCBs to make the task of mounting the panel controls and panel wiring so much easier. These boards accept pots, switches, sockets, LEDs etc and simplify panel wiring. They have a JST connector into which is plugged a pre-wired JST cable assembly. The wires are then soldered into the main PCB. With around 30 breakout boards to choose from, you can speed up assembly, improve reliability and produce a more professional looking module.
Components
We source components from around the world and wherever possible, the part we offer matches that specified in the MFOS / YuSynth design. At the time of writing, we do not substitute any parts with alternatives but a time will come where some of the specified obsolete parts are simply too difficult to source. We believe that we offer every single component needed to build any MFOS project and soon any YuSynth project, if you cannot find what you need then let us know.
Component Kits
To save you time, we can also offer component kits. Originally, these kits included your resistors, capacitiors, diodes, transistors, chips, turned pin IC sockets, push buttons, toggle switches, pots, knobs and jack sockets. We are gradually updating our kits to exclude the knobs and jack sockets as not every customer wanted them but they remain available as an option. However, LoFi noise boxes and single board synth kits may well include banana sockets and coloured cap knobs. In all cases, each kit includes a contents list so best to dounble check before ordering.
Front Panels
Our standard for front panels is 5U high (222.25mm). You can of course produce your own front panels using our artwork or that provided by MFOS / YuSynth but results can be dissappointing without the right facilities. Our solution is to use a CNC laser to both engrave and cut out a laminate panel with superb results. The laminate panel is too thin and flexible to use on its own so we also supply a CNC routed 3mm thick high grade aluminium back panel to accompany the front panel. This method repalces our previous solution of using an acrylic 'framework'. Some customers prefer to use our front panel but with a plywood or copper clad PCB as the back panel. The choice is always yours, we offer as many options as possible so you can be free to build your synth the way you want to.
We also have our own solution for attaching the PCB to the front panel. We offer an acrylic PCB holder which is attached to the back panel using our aluminium 'L' brackets.